There's nothing worse than an unexpected guest. Whether you are trying to keep those pesky insects out or worried about a greater threat, there's nothing more important than the security of your home against unwanted visitors of all kinds.
Swap out your standard screen doors for high quality security screens to give your home an extra layer of protection that ensures YOU get to decide who and what enters your home.
Security Screens Designed Specifically With YOU in Mind
We know how important a cool breeze is on those hot summer days and nights often experienced in our tropical home of Cairns. Opening your doors to let the air in shouldn't also invite in the unknown and unexpected — from pests to wildlife to intruders.
That's why top tier security doors installed by licensed professionals can let you have the best of both worlds — a refreshing breeze and your peace of mind.
Capital Glass & Aluminum offers a full range of aluminum screens, including barrier/diamond grille screens, fly screens, and pet mesh screens to help your furry friends come and go.
The Perfect Security Screens for the Climate
Not only do our security screens help you feel more cool and comfortable during hot and humid weather, but our security screens are specifically designed to be durable even in the face of the intense climate and weather conditions specific to Cairns.
Our state-of-the-art Invisi-Gard security screens utilize a system of PVC wedges to retain the 316 Marine grade mesh in the aluminum frame. This eliminates the risk of electrolysis that other brands have when using dissimilar metal fixings to clamp the mesh in place. Not only is this system safer, but it's built to withstand the heat and moisture of the tropics.
316 grade steel is a marine-grade stainless, offering a higher quality of stainless steel perfectly suited for coastal areas. Other products on the market offer a lesser grade of stainless steel not suited for the temperatures and moisture levels of Cairns.
What Makes Security Screens Different From Other Screens?
Your standard insect screen might keep the pests out, but it won't keep out people. Insect screens are not regulated by Australian security requirements and can be easily removed or damaged, if the right force is used.
Security screens, on the other hand, offer a higher level of protection through:
Superior materials
Adherence to security standards
Superior construction
Secure locks
Installing security screens for your home offers a much higher level of protection than standard fly screens, without sacrificing the comfort or aesthetics of your home.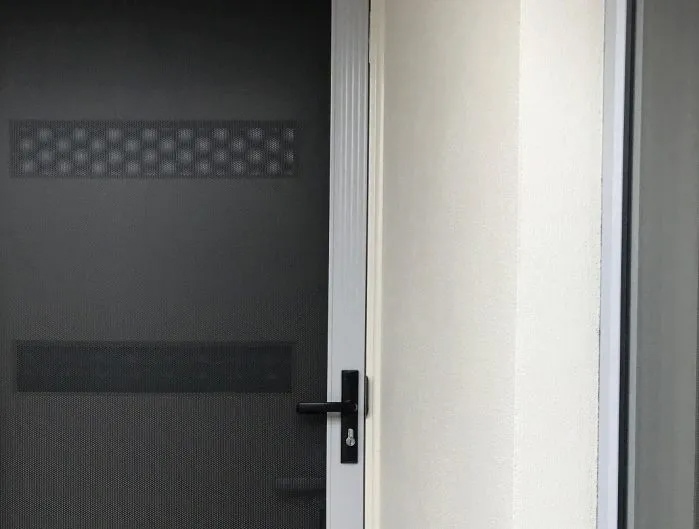 Held to a Higher Standard
Security screens need to pass Australian Standard AS 5039-2008. If a screen doesn't meet this standard, it is simply a barrier screen — NOT a security screen. Australian Security Standards ensure your home is being adequately protected, offering you increased peace of mind and a higher quality of protection beyond your standard fixtures.
Both our stainless steel Invisi-Gard screens and perforated Alu-Gard screens meet and pass the Australian standards. That's because your safety is our #1 priority.
Enhanced Security Without Sacrificing Visual Appeal
Gone are the days of unappealing and outdated bars and grilles on windows. These old school systems immediately diminish the appearance of your home, often look dated, and do not offer the same quality of security as a security screen.
Invisi-Gard screens offer a modern, clean, and simple design that easily compliments any style home — from a Queenslander to a new apartment block. The clean and polished lines of security screens offer a visual upgrade, as well as an upgrade to the security of your home.
Peace of Mind for Your Home AND Your Investment
We know how important peace of mind is for any homeowner. We want to not only provide you with the security that a screen door offers, but we want you to feel safe and secure in your investment, as well.
Invisi-Gard offers a 15-year warranty on all security screen products, ensuring you feel confident in your investment and offering peace of mind that the product will truly stand the test of time.
When it comes to your security, you shouldn't have to worry about the longevity of the protections you've put in place. That's why offering you peace of mind on your security screen purchase is one of our top priorities. 
Take a 15-year break from worrying about the security of your home by investing in long-lasting and warranty protected security screens.
Invisi-Gard security screens set the world standards for quality, precision, and longevity. There's no better investment for the look, value, and security of your home.
If you're ready to take complete control of your home and greatly enhance your peace of mind, we're ready to assist. Get a free quote in as little as 24 hours.
Authorised security screen dealer of:
Invisi-Gard is the premium security screen solution by Alspec
An Australian owned, market leader for over 45 years in the design of innovative aluminium systems to architectural, residential, industrial and home improvement markets.

At the heart of every Invisi-Gard security screen and security door is our high tensile 316 marine grade stainless steel mesh which sets the world standard in terms of its quality, precision and longevity. Invisi-Gard security doors and screens are without question the best investment for your family's safety.

They are also the best investment for the look and value of your home.